WHAT IS DIESEL EXHAUST FLUID?

AUS 32/DEF
ISO 22241-1:2006
The NOx reduction agent Morol AUS 32 (aqueous urea solution) which is needed to operate converters with effective catalytic reduction, so called SCR (Selective Catalytic Reduction) converters, in motor vehicles with diesel engines. SCR converters are particularly suitable for selectively reducing the nitrogen oxide (NOx) emissions of diesel engine.
Click here to download the complete brochure.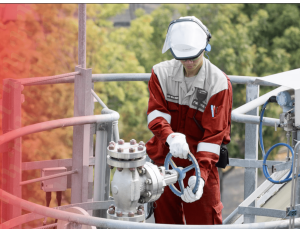 Less Consumption Rate
Morol Aqua AUS32 consumption is expected to be approximately 2-3% of fuel consumption. It may vary depending on the vehicle operation, duty cycle, geography load nothings etc.
Less Maintenance
The decomposition of DEF into ammonia, carbon di oxide and steam provides a safe way to produce the ammonia fuel source thus extends the life of SCR systems.

Avoids Filter Clogging
Morol Aqua AUS32 goes through multi layer ultra - filtrations process to remove insoluble particles from the solution preventing filter clogging.

Technically Pure Urea
Industrially produced grade of synthetic urea with traces of biuret, ammonia & water only free of aldehydes or other substance such as sulphur, chloride, nitrite or other compounds.
UNDERSTANDING SCR SYSTEMS

Our world-renowned Research and Development department is constantly innovating to develop the next generation of world-class products for the industrial machinery and manufacturing processes of the future as well as today. Our commitment to customer care is further demonstrated by our value-added services and infrastructure, developed through continuous collaboration with industrial machinery OEMs, maintenance departments and industrial distributors.

Storage Requirements
Dry well ventilated and properly covered area.
Avoid direct sunlight. Optimum storage temperature is 25

°

 C (77

°

 F), with temporary exposure to higher temperatures has little to no impact.
Being corrosive liquid should only be stored in approved materials like high-density polyethylene (HDPE) or stainless steel.
Shelf Life
Recommended storage temperature is between -11° C to 30° C.

At constant temperature upto 30

°

 C, the product will last 12 months minimum.

At constant temperature upto 35

° C the product will last 6 months minimum.

Location with higher ambient temperature, Eco Blue tanks should be insulated or stored under shade with proper ventilation.
Precautions
Don't use D.E.F as a diesel additive.
Don't add D.E.F in any fuel tank.
Don't refill used D.E.F containers.
Don't store D.E.F in direct sunlight.
Don't use D.E.F against any contaminants on of fuel, oil water, dust, dirt, metals, etc.
Only use dedicated equipment for storage and dispensing
Need help with easier industrial solutions? We are experts!